From the desk of ACADEMIC DIRECTOR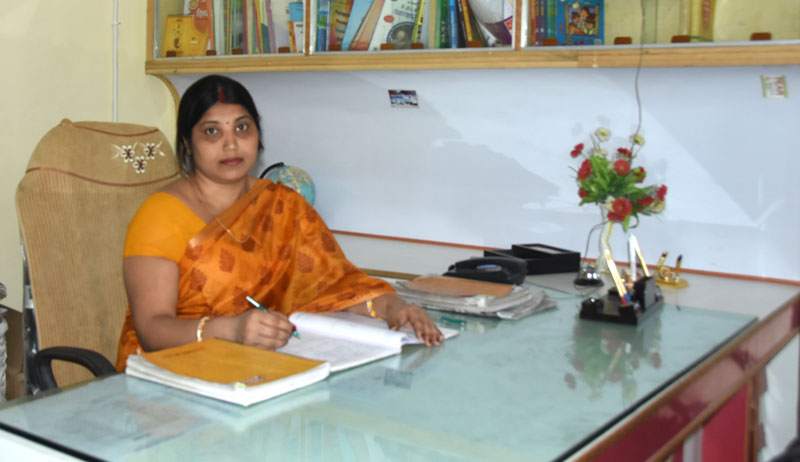 Dear Parents,

"Keep your mind open to change all the time. Welcome it. Court it, it is only by examining and re-examining your opinions and ideas that you can progress" Dale Carnegie's words influenced me most of the time and thus the message that follows reflects the changes that took place in the school over a decade and adaption to new challenges that transformed the institution to this status.

As the year 2020 approached, the school has undergone a cyclopean change, a process of great possibility and great upheaval. In just a few short years, being Academic Director and under my leadership, we have been witnessing the birth of incipient administrative block at SVM campus, the rush to computerization, the dawn of information age, the advent of an incipient Saraswati Vidya Mandir, Manigachhi.

No longer school edifying learning got constrained to classrooms but got elongated even after the school to cloud predicated support system. Introduction of a constant obsession for quality improvement of teaching faculty, management discovered several means to verify potentials and accreditations with international benchmarks. Creating an intersection between knowledge, skill and desire had been the continuous effort of the Management. Cognizance is a theoretical paradigm, the "what to do and why'', adeptness is the ''how to do'' and optate is ''want to do'' were induced as habits for making an efficacious preceptor. Digital curriculum, digital edification plans have become an integral part of a systematic approach to edifying learning. Exchange programs with JNSVM Society, CBSE Cluster schools, and periodical internal and external audits of classroom learning, analysis of performance after every term; periodical training of faculty is enhancing the transactions in the classroom to a sizably voluminous extent.

Assiduous counseling sessions, challenging perspicacious, social and physical strengths of students has become an endeavor to truncate nonessential diversions. Instruments of quantification to realize the illimitable potential within each child and avail lead a blissful, purposeful, conscious, virtuous and a prosperous life has been another effort. No longer can so much of creativity go scandalously untapped is the intention of management and keeping pace with this ideology, each student's latent talent is challenged, nurtured and given opportunities galore to attest. The uniqueness of a child and building self- esteem is the focus. Regular Sports and selective Academies working in the school, annual health audits are preparing robust citizens for future Olympics.

'We are what we perpetually do excellence then is not an act, but a habit' expresses Aristotle. We the family of SVM always try to achieve excellence and become spark plugs to the creativity of students. We give thought-eliciting prompts to trigger home inscribing skills and critical thinking and lead each individual to compete for own self to consummate their desire. Students have endeavored to venture into the realm of expressing ingeniously in a simple but imaginative way. 'Savour' the magazine as a precious stimulation of your wards' new perspective to life. Don't go by its volume and keep it aside, but relish each child who accumulated their wits to think big, expeditious, ahead as ingeniousness is no one's monopoly.
With Best Wishes.
(Mrs. Sonu Kumari)
M.A., B.Ed.
ACADEMIC DIRECTOR

SARASWATI VIDYA MANDIR, MANIGACHI, DARBHANGA
C.B.S.E. Affiliated School upto 10+2
ACADEMIC DIRECTOR

Sonu Kumari
Academic Director
Saraswati Vidya Mandir

Educational Qualification :

M.A., B.Ed.

Contact Numbers :
+91-9931236371
+91-9955722451

Email Address :
svmkumarisonu4112@gmail.com

Website Address :
www.svmmanigachi.edu.in